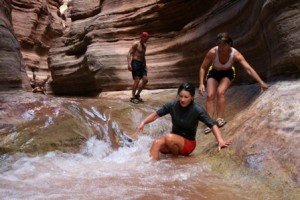 Hiking on a Grand Canyon Rafting Adventure
Hiking through the side canyons of the Grand Canyon is a major attribute to a raft trip down the Colorado River with Arizona Raft Adventures. You can anticipate a side hike almost daily; they will vary in length, difficulty, and scenery. You may hike a side canyon with walls towering high over your head up to a beautiful waterfall or maybe a longer, more difficult hike across the dry desert. You might hike to ancient ruins or to view evidence from the early river running years. Most of the trails in the Grand Canyon are not maintained. The general rule of thumb is that there are no easy hikes in the Grand Canyon and hike conditions may include some or all of the following:
wading through creeks with swift current
climbing over hot boulders
navigating in and around slippery spots
high and narrow ledges with steep drop-offs
soft sand and loose soil
scrambling moves requiring hand and leg strength
mud
intense sun exposure
Hikes can range anywhere from one to six hours long. There is no pre-set schedule for your trip and each trip ends up with its own unique schedule. If your trip spends most of the day hiking, you might spend more time on the water either the day before or the day after to make up river miles. The hiking will also vary due to unpredictable factors such as weather, water levels, input from you and the other participants and the range of abilities and interests of the group. We strongly recommend you be in the best fitness shape possible. We also offer you many hiking tips for adjusting to the challenges associated with side hiking opportunities in the Grand Canyon. Finally, be prepared to hike at any time as an itinerary can change on a dime. Keep your hiking shoes in your day bag.
If side hiking is something you are extremely interested in, you might like to consider our specialty trip, the Hiker's Discovery.
The side hiking opportunities are optional*.  You may also find a shady spot to relax, take a nap, journal, watercolor, fish or read.
*There are a couple of hiking stops where your guides may require you to hike a short distance in order to find shade or to move you to a safer location.