Frequently Asked Questions about Life on the River
---
What does a typical day or trip itinerary consist of?
Itineraries vary on every trip and can depend on factors such as weather, water levels, and time of year. We aim to please but we also have to manage the trip itinerary for the needs by the group. For these reasons, we can only provide an outline of what you might expect on your trip because each trip is different. The day begins around dawn when you hear the coffee call. Breakfast is usually ready about 30 minutes after the coffee is served. After breakfast, camp is broken down and the boats are loaded. You are on the raft an average of two to three hours at a time, four to eight hours each day. A balanced itinerary is planned daily by your trip leader. You will hike in scenic side canyons and stop at points of interest. You may hike in the morning and then stop for lunch. If you hike in the morning, you will most likely push through the afternoon on the raft until you get to camp. Other days you might have a long morning and then hike after lunch. Your trip leader will try to get to camp in the late afternoon. Once you get to camp, you may have the option to hike, relax, bathe, or if you feel like hanging out you may join the cooks in the kitchen. Dinner will be served in the evening hours. After dinner, you may turn in for the night or hang out and socialize.
---
What is the camping and toilet situation like?
Many guests experience their first camping trip in the Grand Canyon with us. Each evening we stop and set up camp consisting of a kitchen and portable toilet. You will select your own camp spot and set up your tent. Don't worry; if you don't know how, just ask a guide and they will assist you. Many guests choose to sleep out under the stars. The Grand Canyon is a friendly place to camp; it is warm and there are few insects. The National Park Service requires that urine goes in the river. During the day, you will urinate in the river. In the evening the "groover" (portable toilet system) is set up in a scenic, yet discreet location. You do not need to bring your own toilet paper. To read more about camping, click here.
---
How tough are the hikes?
Hiking in the Grand Canyon is unlike any hiking most people have ever done. The scale is stunning and the views are spectacular. The trails are not maintained and may include wading through creeks, scrambling over hot boulders, navigating in and around slippery spots, narrow ledges and steep drop-offs. All hikes are optional except for the Bright Angel Trail (if you are booked on either an upper or lower trip only) or Havasu Creek. For most of the hikes, we strongly recommend wearing a closed toe shoe with good tread and solid foot support. To read more and see photos on side hiking opportunities, click here.
---
What are the rapids like?
There are roughly 160 rapids between Lee's Ferry and Diamond Creek. However, these rapids only account for about 9 percent of the total distance. There is a lot of flat water between the rapids. The Colorado River through the Grand Canyon is considered a class III river with some class IV rapids. However, the rapids are rated on a 1-10 scale as opposed to the more traditional 1-6 scale. Some of the more well-known rapids on the upper half of the river include Hance(8-10), Sockdologer(8-9), Unkar(6-7) and House Rock(7-9). The lower includes Crystal(10), Lava(10), Horn Creek(8-10), and Hermit(8-9).
---
What is the food like?
Fantastic! In fact, our customers often tell us that they eat better on their river trip than they do at home. We will feed you hearty meals from lunch on the first day of your trip through lunch on the last day and snacks are available between meals. Our menu consists of quality fresh fruits, vegetables, whole grain breads, meats, and desserts. We also do our best to purchase items locally and use organic products when available (and improving this more each year).
The meals vary and are plentiful enough that all tastes are usually accommodated. After you book a trip, we will ask you to fill out some paperwork that will include dietary restrictions. We ask that you refrain from dietary preferences as space on the rafts is limited and it can be difficult to make significant changes to the menu. However, we are able to easily accommodate vegetarians by simply substituting tofu, veggie burgers and tempeh. It is also possible for us to make substitutions for other dietary needs such as a gluten allergy (be sure to indicate this in your paperwork so that we are able to properly prepare for you). It is difficult for us to accommodate personal preferences (example: needs milk everyday) and diets such as Adkins or South Beach. If you have any questions regarding our ability to accommodate your dietary needs (extreme allergies or vegan), please inquire upon reservation.
Here is a sample of what you could expect for breakfast, lunch and dinner. These exact meals may not be on your particular trip.
BREAKFAST
migas (egg, tortilla, onion, tomato, green pepper, green chile, cheddar cheese), juice, grapefruit, salsa
cereal/granola, milk, juice, bagels, cream cheese, jam, melon
blueberry pancakes, sausage, fruit, yogurt, granola, juice
LUNCH
bacon-lettuce-tomato sandwiches, onion, cheese, apples, oranges, 9 grain and whole wheat bread, candy, nuts, dried fruit, peanut butter, cookies
taco salad (avocado, onion, tomato, green pepper, jicama, cilantro, lettuce, corn chips, kidney beans), cheese, tortilla, cookies, nuts, candy, peanut butter, jam, dried fruit
turkey, cheese, onion, tomato, 12 grain and sourdough bread, cranberry sauce, dill pickle, jalapeno pepper, peanut butter, jam, cookies, nuts, dried fruit
DINNER
steak or chicken breast, mashed potato and chives, salad (lettuce, tomato, green pepper, cucumber, artichoke, onion, olives), carrot cake
lemon pesto pasta with pine nuts, garlic bread, cesar salad (romaine lettuce, green pepper, tomato), spice cake
chicken fajitas (grilled chicken, green and red peppers, onion), flour and corn tortillas, salsa, rice, black beans, olives, cilantro, tomato, lettuce, sour cream, cheese
---
What is the weather like?
There are certainly no guarantees when it comes to the weather in the Grand Canyon. However, there are typical types of weather that you may expect throughout the season. It is possible to experience two major extremes: hot/dry and cold/wet. We recommend bringing quality waterproof rain gear as well as polypropylene on every trip. It is better to be prepared and not need it than to need it and not have it! Daytime highs during June through August frequently exceed 100 degrees; however, the humidity is low and there is a natural cooling effect while on the river. Expect rain any month; however, afternoon thunder showers are most likely July through mid-September.
Early to Mid-April: Expect daytime temperatures in the 70-80's and nighttime temperatures in the 50's. A wet winter could present a brilliant display of wildflowers. A cold snap, rain and wind are also possible so be prepared with rain gear or paddle jacket & paddle pants, polypropylene long underwear, fleece and warm footwear.
Mid-April to Mid-May: You are likely to have warm days of 80-90 degrees and cool nights in the 50's-60's. Rainstorms are unlikely but not impossible. Winds combined with early morning and late afternoon canyon wall shade and splashy rapids can be chilly.
Mid-May to Mid-June: The weather starts heating up with daytime temperatures into the 90's. An early summer could easily bring temperatures up over 100 degrees. Nighttime temperatures range in the upper 60's to low 70's. Rain is unlikely but not impossible. Wind is still likely.
Mid-June to Mid-July: This is typically the hottest, driest time in the Canyon with temperatures over 100 degrees and nighttime temperatures hovering around 75-80 degrees. Sun protection is essential! Early monsoon storms are certainly a possibility so be prepared just in case.
Mid-July to Mid-August: The weather is still hot but now there is the potential for the Arizona summer monsoon storms. A typical monsoon storm starts with cloud cover in the late morning-early afternoon with a late afternoon thunderstorm and then a clear evening. Some can be quite severe and may limit side hiking in some of the slot canyons. However, the storms bring color and drama to the Canyon that you get no other time of the year and the storms help to cool off a hot day. Be prepared for both hot mornings (long sleeve cotton shirt) and cooler afternoons (rain gear). Daytime temperatures are generally still over 100 degrees and nighttime temperatures around 75-80 degrees.
Mid-August to Mid-September: Possible late monsoon season so be prepared! Temperatures usually begin to drop back to the 90's but could certainly still reach 100 degrees. Nighttime temperatures are in the upper 60's to low 70's.
Mid-September to October: As autumn approaches, the weather is usually clear. The low 90 degree daytime temperatures of late September are followed by slightly cooler temperatures in October (mid to upper 80's). Nighttime temperatures range in the 50's to 60's. Along with your shorts and t-shirts, be prepared with rain gear or paddle jacket & paddle pants, polypropylene long underwear, fleece and warm footwear. The chance of rain is still possible but unlikely.
Using the National Park Service almanac, we have compiled the monthly average highs and low temperatures for you:
April
May
June
July
August
September
October
high 82
low 54
high 91
low 60
high 102
low 71
high 106
low 76
high 102
low 74
high 95
low 67
high 82
low 59
For a current weather forecast, check out the National Park Service website.
---
May I bring my fishing pole?
Yes, you may bring a fly fishing or a spin fishing collapsible rod in a hard shell case. We have an entire page on our website dedicated to our avid anglers! Click here to read more about fishing in Grand Canyon.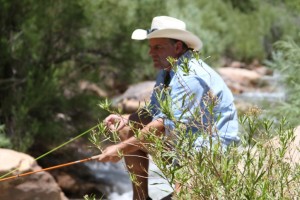 ---
Will my cell phone work in the Canyon?
No, your cell phone will not work in the Grand Canyon. Moreover, we strongly discourage bringing any electronic devices (other than your camera!) on the trip. Sand, water, and other hazards certainly pose a risk of ruining electronics. In addition, certain electronics may impose upon other guests' enjoyment of their river trip as well as interfere with your own opportunity to become fully present and engaged with your Grand Canyon experience. There is plenty to do without bringing outside distractions. We recommend using "down time" for photography, water coloring, reading, writing or simply connecting with friends and family on the trip. If you do choose to bring an electronic device, you should take proper precaution to try and protect your property and be aware it could still get ruined.
---
Is there any advice from previous passengers for new passengers?
One piece of advice from previous passengers is the stress of skin care. Over and over again, passengers underestimate the power of the elements faced in the Canyon (wind, water, sun, sand). It is imperative that you bring a heavy-duty moisturizer such as Lubriderm and a hand/foot salve such as Super Salve (or similar product).
Previous passengers also commonly comment that you should be prepared to work and think together with the greater good of the group in mind. Don't take risks you might otherwise take when you are alone, go downwind if you smoke, and go out of earshot if you have noisy gadgets or are partying while others are sleeping. If everyone keeps this in mind when making personal decisions throughout the trip, this helps ensure we all have a fantastic time.
As you can imagine, there is a lot of advice and tips for a Grand Canyon rafting trip. So each week we post a quick trip tip on our website (AzRA Tip of the Week) and on the AzRA Facebook page. The AzRA Facebook page is also a great place to post questions for previous passengers!
---
Do you recommend any additional readings for either before, after, or while I am on my trip?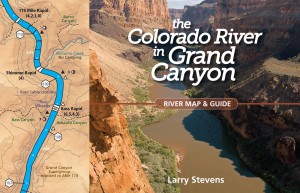 You bet! All guests with a reservation receive a complimentary copy of Larry Steven's the Colorado River in Grand Canyon River Map and Guide. This water-resistant guide contains a mile-by-mile river map showing the rapids, campsites and historic sites found in the Grand Canyon as well as information on the geology, biology, and natural and human history. If you would like to see the River Guide prior to your trip, email info@azraft.com to request it be mailed prior to your trip.
If you want to browse or purchase other Grand Canyon related books before or after your trip, please view our selection of books available for purchase online through Red River Sports. These are some of our favorites and also very popular choices amongst our guests. You can also purchase books at the orientation or return in Flagstaff.
In addition to our favorites, there are hundreds of books written about the Grand Canyon in a plethora of topics of which might be of interest to you either before or after your trip. We even have suggestions for the best Grand Canyon books for kids too. We have an extensive collection of these books available for you to view on our Additional Recommended Readings board on Pinterest.
You do not need to bring any Grand Canyon books on the trip with you (except for your  River Map/Guide if you want!). On the trip you will have access to the trip "library." The trip library is a small collection of books that we take on every trip to loan to our guests. It consists of a variety of books including short stories, educational, reference books, and poetry.
Each Library should contain one copy of the following:
Exploration of the Colorado River and Its Canyons by John Wesley Powell. Features the full text of Powell's classic account, which includes his observations about the terrain and its Native American inhabitants, along with reproductions of the original line drawings.
There's this River: Grand Canyon Boatman Stories by Christa Sadler. Often hilarious, sometimes bittersweet and always entertaining, these true tales tell the stories of a landscape, a lifestyle and a unique community.
Sunk Without a Sound by Brad Dimock. The unearthed story of Glen and Bessie Hyde's 1928 honeymoon journey down the Colorado River.
River and Desert Plants of the Grand Canyon by Kristin Huisinga, Lori Makarick, and Kate Watters. Comprehensive field guide devoted to the plants that live below the canyon rims; describes more than 300 plant species.
Grand Canyon Geology by Greer Price. Basic principles of Grand Canyon geology and the history of geologic exploration at the Grand Canyon.
Breaking into the Current by Louise Teal. Collection of 11 stories gathered from the Canyon's first female guides.
Grand Canyon and other Selected Poems by Amil Quayle. Amil Quayle beautifully reflects his intimate experience and knowledge of the Grand Canyon, having rafted through the Canyon for most of his life.
A Field Guide To The Grand Canyon by Stephen Whitney. General field guide describing and illustrating the plants, animals, natural history, and geology of Grand Canyon.
Cadillac Desert by Marc Reisner. Study of the economics, politics, and ecology of water covers more than a century of public and private desert reclamation in the American West.
An Introduction To Grand Canyon Prehistory by C Coder. This book provides a popular look at the architecture, art, and tools of prehistoric peoples of Grand Canyon, as well as information about modern-day Native American tribes.
---
How do I take care of personal hygiene while on my trip?
Many personal comforts of home are left behind when you are on the river. However, you may continue most of your personal hygiene routine.
Bathing: There are no shower facilities on your river trip. However, you may soap up and rinse off in the river as much as you want. We recommend that you bring biodegradable soap and shampoo which you can find at most camping supply stores. If you can't locate any biodegradable soap, you can purchase a travel size camp soap from our Red River Sports retail store. Be sure to pack any soap products in a plastic baggie just in case it leaks. Don't forget, the river is quite cold (48-52 degrees) so most bathing and washing is quick! Before you enter the river, please consult a guide to inquire if it is a good spot as some locations have deep water and/or swift current.
Brushing Teeth: Brush your teeth by the river as toothpaste can attract ants. We recommend you use a natural biodegradable toothpaste but it is not mandatory.
Shaving: Whether or not to shave is simply a personal preference. Some passengers do and some don't. If you decide to shave, you must do it by the river with the cold river water.
Laundry: You don't need many changes of clothing as you end up wearing the same items most of the time. Laundering your clothes in the river is common practice. Again, please use biodegradable soap. There are usually little bushes and branches around camp to hang your clothes on. The air is usually arid and clothes dry relatively quickly.
Contact Lenses: It is very common for passengers to wear their contact lenses during their trip.  However, this trip is dirty, sandy and can be windy which makes handling contacts challenging. Previous passengers have recommended bringing eye drops to battle the dry winds and blowing sand and dust. Some passengers have also recommended bringing non-alcohol baby wipes to knock off loose sand before handling your contacts in conjunction with washing your hands.  If you are uncomfortable handling your contacts in a wilderness situation, you may find it easier to take them out before it gets completely dark.  We also suggest that you follow the recommended wear and care instructions provided by your eye doctor (i.e. taking them out in the evening verses leaving them in all night).  Finally, we recommend you bring at least one spare pair of contacts, extra solution, as well as your glasses just in case you need them.
Skin Care: We cannot stress enough for both men and women the importance of giving attention to your skin. The environmental elements in the Canyon are quite harsh. You will experience extreme sun exposure, grinding sand, wind, and dry air. In addition, your skin is repeatedly getting wet and then drying out which is especially hard on your hands and feet. After a couple of days of dry skin, your skin begins to crack open and these cracks often have a hard time healing. Please bring a moisturizer lotion such as Lubriderm. We also recommend using lotion a couple of days prior to your trip so that your skin is well hydrated from the start. In addition to a body moisturizer, we highly recommend an additional heavy duty moisturizing product for your hands and feet. We recommend a medicinal herbal salve called Super Salve. Additional tips for taking care of your feet include
Avoid getting sunburned.
Keep your toenails trimmed.
Keep your feet from soaking in the water as much as possible.
Always wear shoes, even in camp.
Clean your feet with soap once a day.
Put dry shoes on when you are in camp.
Use a heavy-duty moisturizer.
If you start having problems, don't hesitate to talk to a guide about it.
Feminine Hygiene: If you are going to be menstruating during your trip, we recommend you use tampons. Using pads is not ideal during the day as you are constantly getting wet. If you must use pads, we recommend wearing a good pair of waterproof rain pants, although rain pants can be extremely uncomfortable in the heat of the summer. We suggest you bring pre-packed sandwich size zip-lock bags to carry new and used products. Your trip will make a couple stops throughout the day and if you need to address your period during this time, you can usually find a bush, a large rock or some sort of privacy (maybe bring a sarong too!). Some passengers have recommended bringing hand sanitizer, baby wipes and non-applicator tampons. The baggies can be disposed of in trash containers at camp. Please feel free to consult any of our office staff or your guide(s) if you have any additional questions.
---
Can I bring a musical instrument?
It is certainly possible to bring along a small musical instrument (guitar size or smaller). There are some wonderful places in the Canyon to play music and it is quite enjoyable for other participants on the trip. If you play the guitar, we have a small supply of "river guitars" available to put on your trip. If you are interested in bringing a different instrument, it must be in a hard-shelled case. We may also be able to loan you an additional dry bag for the duration of your trip. Keep in mind that any instrument is going to be exposed to environmental elements (such as heat, sand, water, etc.) and potentially strapped to the outside of the boat rig where it could endure impact so bring at your own risk. We also ask that you only request or bring an instrument if you actually intend on playing it as there is limited space available on your expedition. To request a "river guitar" or to make arrangements to bring your own instrument, please call the office at least one month prior to your trip.
---
What emergency contact phone number should I leave with my family and friends while I am on my river trip?
It is nearly impossible for us to reach you once you are on your river trip. However, you may leave the office phone number (800-786-7238) with your family and friends. We will do our best to facilitate delivering the message.
Even if we are able to intercept you with an emergency message from your family, you may not be able to leave the trip. Because of the probability that we will not be able to reach you or that you might not be able to leave, we recommend discussing what this means to you with your family and friends. For example, if you have an elderly parent, you may be concerned that they fall ill or pass away while you are gone. Talk about the what if's with your family before the trip, discuss decisions that could make without consulting you and perhaps talk about whether you would want your family to postpone a funeral service until you would be able to attend.
---
What happens if I have an emergency on my river trip?
We carry a satellite phone on all of our trips to call out for emergency assistance and medical helicopter evacuations. These phones are not kept on to accept incoming calls. It is also important to understand the Grand Canyon is extremely large and remote and that emergency personnel and definitive medical care may still be several hours away by.
---
What is something that often surprises first time passengers?
The amount of SAND! The landscape in the Grand Canyon is very sandy and you will experience sand almost everywhere you go. Sand can be a nuisance, especially during high winds. Some passengers have recommended bringing a small whisk broom to brush out the tent. For those who wear contact lenses, see personal hygiene question and answer for tips.
First time guests are also often surprised at what a talented and interesting group of guides we have! They come from all walks of life and are very passionate about the Grand Canyon and the Colorado River. Their ability to lead adventure, engage with participants and tell Grand Canyon river stories is undeniably AMAZING!
---
What sort of nature might I experience and what kind of information about human history might I learn about?
---
Should I pack cotton or synthetic clothes?
The answer is both. Both types of materials serve different purposes. In the Grand Canyon, the heat is dry and the sun is intense. One of the universal methods used by Grand Canyon river runners to survive in the heat of the summer is by wearing an outer layer made of cotton. This may contradict everything you have been taught about wearing cotton in the outdoors. Trust us when we tell you cotton is a good choice when packing for a Grand Canyon river trip, especially if you are going on a trip early-May through late September. Cotton absorbs water and holds moisture against the skin providing a natural evaporative cooling system. The longer the cotton is wet, the longer the body is cooled. At least one long sleeve cotton shirt is a must. You may also like a lightweight cotton pant, scrub, pajama pant, or sarong too. During June, July, or August, cotton bottoms will help intensify the cooling process and assist in keeping your core temperature at bay.
Synthetic materials are popular among outdoor enthusiasts due to their ability to dry quickly. Synthetic materials make great base layers when on the Colorado River because they are designed to move moisture away from the skin and channel it to a greater area of surface so evaporation can occur more rapidly. You should choose a base layer of non-cotton material to prevent chafing (i.e. no cotton underwear or cotton shorts for on the river). Swim trunks, sport bras, shorts, long underwear, or any base layer should be made of quick drying synthetic materials (swim suits for women are popular base layers). In addition to your base layer, we insist you pack 1 non-cotton thermal underwear long sleeve top. Synthetic thermal materials such as Capilene, Coolmax, Under Armour, polypropylene, polyester, rash guards, etc. are designed to wick moisture away from the skin and evaporate quickly therefore allowing your body to maintain a warmer temperature when presented with cooler conditions. The top is a "must have" year round as the water in the river is very cold (48-52 degrees) and the weather can be unpredictable even when the forecast says "hot and sunny." Synthetic thermal long underwear bottoms are optional during the hotter months of June, July and August but bring them if you tend to get cold more easily. Bottoms are mandatory if you are going in April-May or September-October.
Many guests bring a long sleeve nylon shirt as a second long sleeve shirt (in addition to the cotton). This is a great choice especially during April-early May or late September-October when the temperatures in the Canyon are cooler and the desire to dry out more quickly is warranted (please bring a cotton long sleeve too just in case there is a heat wave during your trip). Nylon shirts are not necessarily ideal during the hottest months because they dry out so quickly which makes it harder to regular your core temperature with the cool river water. You may also like a long nylon pant which would dry out more quickly during the cooler months while still providing sun protection.
---
Do I need bug repellant?
Typically no. The environment is so dry and the river is cold and swift; this is not ideal breeding habitat for insects. However, there are certain camps and hikes which tend to be "buggier" (although nothing like buggy areas of the world). If you are the person a mosquito will fly miles to pester all evening long, then you might want to bring a little repellent along. Some guests have recommended a repellant which comes on an individually wrapped wet wipe for convenience (in order to avoid bottles or sprays in your dry bag or travel luggage). Otherwise, it is unlikely you will encounter many insects.
---
What do I need to know about preventing a heat-related illness?
Quite frankly, beginning about mid-May and possibly even through mid-September, the potential for 100 degree plus temperatures in the Grand Canyon is likely. Although developing a heat related illness is more common during the heat of the season, heat-related illness can happen during any season! Managing the heat on the River is very possible; you can have an extremely fun and comfortable trip. The Grand Canyon's dry heat is more comfortable that other parts of the country that experience more humidity. Plus there are many benefits to coming in the summer such as: higher water level during the rainy season, swimming and playing in waterfalls, water fights, longer days, more wildlife (animals come down to the river for water), hiking in narrow shady canyons, and the potential for magnificent rainy season weather. In fact many of our clients choose summer because, they don't want to get cold while rafting. The rainy season, also known as the Monsoon Season, can have slightly cooler temperatures, cloud cover, rain, rainbows, ephemeral waterfalls, thunder, lightening, and drama galore. The Colorado River runs about 50 degrees year round and in hot weather, it becomes the source of survival. Using river water for cooling in conjunction with cotton long-sleeved shirt, pants, or sarong, will help to keep your core temperature cool by maximizing evaporative cooling. In addition to keeping cool, you can provide shade for yourself with a wide brimmed hat and a sarong. It is important to understand the importance of eating and hydration to provide your body the proper fluids and salts. Finally, don't forget, just because you come in the summer, doesn't mean you won't get cold! You should always bring a long sleeve synthetic non-cotton base and rain gear.
The Grand Canyon is a place of extremes!
Educate yourself on heat related illnesses, so you can take the proper precautions and recognize the signs should you start to become ill. It is possible to become very ill from dehydration or other heat related illnesses such as, water intoxication, heat exhaustion or heat stroke, all of which can leave you feeling sick for several days and/or develop into a life threatening situation. Talk to your guides if you start to develop any symptoms; they can't help you if they don't know! Although developing a heat related illness is more common during the heat of the season, heat-related illness can happen during any season!
If you are on any medications, it is important to determine if those medications could contribute to the possibility of developing a heat related illness, as many medications (both prescription and over the counter meds) can negatively affect your body's ability to regulate its water and electrolyte/salt balance. Examples of medications include beta blockers, diuretics, antihistamines, anti psychotics, tranquilizers, amphetamines and there are many other medications that can exacerbate the development of heat related illnesses.
Dehydration happens when your body does not get as much water as it should. Dehydration can be caused by losing too much fluid, not drinking enough water or fluids, or both. You could sweat around 1/2 quart an hour or maybe even more when hiking in the heat, but it may be difficult to tell in the dry air, because sweat evaporates more quickly. A good indicator for being hydrated is your urine is white or slightly yellow. Do not wait until you are thirsty to start replacing fluids. If you are thirsty, you are already dehydrated. Hydration packs are great for side hiking, because they make drinking water quick and accessible. Be aware of signs of dehydration: headache, dizziness, nausea, irritability, confusion, cool clammy skin and low output or dark colored urine. Eat at all meals and snack in between meals to keep your salts balanced.
Water intoxication (also known as hyponatremia) is an improper ratio of salt (which is an electrolyte) to water in your body. In Grand Canyon, visitors are often so focused on consuming water they neglect the other side of the equation: food. It is essential that you eat at meals and snack in between in order to maintain your electrolyte balance. The symptoms of water intoxication mimic those of dehydration; however, clear or light urine in conjunction with low food intake is a major indicator.
Heat Exhaustion is caused by the body's inability to cool itself adequately through evaporative cooling i.e.; sweating. It most commonly occurs when exercising in hot humid environments, where sweat cannot evaporate rapidly enough. While the Grand Canyon is normally a dry environment, occasionally it can be somewhat humid; layering on sunscreen over large portions of one's body can also delay evaporation of sweat or clog sweat glands. Symptoms are similar to dehydration, but heat cramps are common and the mildest symptom is prickly heat or heat rash.
Heat Stroke: Is a serious life-threatening situation that occurs when one's body temperature gets above 104F degrees. Both dehydration and heat exhaustion can lead to heat stroke. Early symptoms are similar to dehydration and heat exhaustion, with the exception that usually one will have flushed dry skin, hallucinations and seizures can develop if not cooled quickly.